What is a recone?
Recone is a common term used when referring to the complete rebuild of a speaker or subwoofer. Sometimes it is necessary to start fresh, and get rid of all the worn out parts
of a speaker or subwoofer.
Is it really worth it to fix my blown or broken subwoofer?
Absolutely! Speakers aren't cheap! Current market conditions are causing the manufacturing cost of high performance subwoofers to soar through the roof. You may find yourself saving hundreds of dollars by having your broken speaker repaired as opposed to throwing it away, and buying a new one.
What are your repair prices?
Prices vary from speaker to speaker. Prices start from just $25 for miscellaneous repair services, and $90 for reconing services.
In many cases, we can send you a custom-made, preassembled drop-in recone kit for your subwoofer along with the glue and shims needed to install the kit.
If you'd rather have your subwoofer professionally built at our shop, we will install the parts for you at no additional charge. We offer installation of our own parts as a courtesy to our customers. You must pay the shipping charges to get your subwoofer to and from our shop though. We do not provide free shipping for subwoofers or custom recone kits.
We can offer a precise price quote once we receive more information about your speaker, and the specifics of the repairs that are needed. Please fill out a service request form for a quote on custom rebuilds services or recone kits.
What is your phone number?
We only use text forms of communication. You can communicate with us via email, social media, or our contact forms on our site. We apologize but we do not offer telephone support.
What forms of payment do you accept?
We accept PayPal, Debit, Credit, and Money Orders.
How long do repairs take?
During peak times (Mar-Oct)- As long as no special parts are needed, repairs usually do not take longer
than 14 business days, but sometimes take up to 21 business days.
During non-peak times (Nov-Feb)– As long as no special parts are needed, repairs usually do not take longer than 10 business days, but sometimes take up to 16 business days.
Shipping time depends on your location and the shipping service used. We ship FedEx Ground service unless otherwise instructed.
Will you ship repair parts or rebuild kits?
Yes! We offer drop-in recone kits for many subwoofers. In some cases, the subwoofer might have to be shipped to us for some certain repairs. Many subwoofers need to be specially built, so some model must be shipped to us for repair.
Do you offer a warranty on your services?
Absolutely! Speakers repaired or rebuilt by FixMySpeaker.com® are covered by a 1 year warranty. Our warranty covers all workmanship and materials on any defective parts or service. The warranty does not cover burnt voice coils or customer abuse.
How do I get my speaker repaired?
To obtain a service quote please fill out the Service Request Form and submit your request. We will contact you with a quote and more details.
What part of the speaker are you talking about?!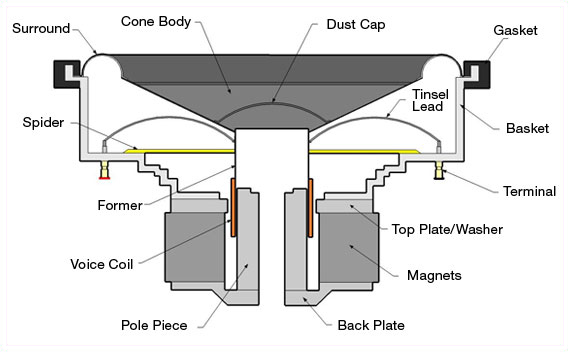 What measurements might you need to help rebuild my subwoofer?!